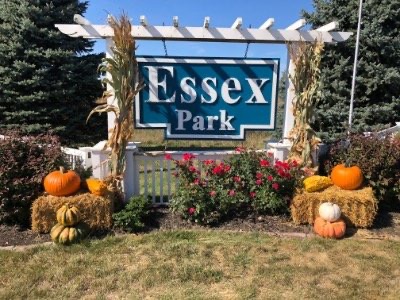 Essex Park was named after the U.S.S. Essex, which was the ship commanded by Captain David Porter
(for whom Porter County was named) in the "Battle of Valparaiso" during the War of 1812.
"The Essex," a sister ship of the U.S.S. Constitution (Old Ironsides,) was built in Salem, Massachusetts and paid for by the public subscription from the citizens of Essex County.
The names of the various streets in Essex Park are all towns in Essex County, Massachusetts.
NEWS:
Time to decorate for the winter holidays ! The tree lights will be installed on December 2, but we will be putting up a new holiday sign and decorations on the Saturday after Thanksgiving, November 25th, at 1:00 pm. Please consider giving us a hand and/or bring us some new ideas. If you are interested please just show up or email Debbie at [email protected].
Our semiannual public HOA meeting will be held on Saturday, Dec. 9th at 10:00 am at the Villas at Vale Park Club House, 2445 Allison Circle, Valparaiso, IN. Please join us.
Thank you!


Note that the HOA Board is always seeking volunteers to help with special projects. We are a totally volunteer board. Please do not contact us to mediate disputes with neighbors. Feel free to read our covenants and bylaws. We are only authorized to confront residents if any of those are violated. Violations of city codes need to be brought up with the city, not the HOA Board.

Please Do Not Park on the side of the street where there are mailboxes. 

________________________________________________________________________________
We would appreciate if all residents would register with our website. Registered residents of our community will be able to see the private information and be sent emails of any updates and/or activities of our neighborhood.
Thank you,
Essex Park Home Owners Association
-------------------------------------------------------------------------------------------------------------------
PLEASE; NO DUMPING OF YARD WASTE IN COMMON AREAS, OR IN ADJOINING FIELDS AND WOODS.